Every online bingo game has a caller or a display board for the bingo numbers. The game pattern is also displayed.
It's important to pay attention to the pattern. You only need the numbers that form the pattern to win the game. Some bingo patterns are much easier than others to complete. The most basic patterns are straight lines in a horizontal, vertical or diagonal direction.
Another simple and popular game is the "bingo blackout" or "bingo coverall" where you have to cover the whole card. Here you can make your own bingo cards and play for free.
The numbers are announced quickly, usually 10 seconds apart, so you must pay careful attention to the numbers that are called and mark them quickly and accurately on your cards. Some games automatically mark the numbers on your card for you, but that takes much of the fun out of the game.
The play continues until one or more players claim bingo. Then the game stops immediately and the numbers are verified. If there's a winner announced, the prize is awarded. If there is more than one winner, they split the prize.
Next the players get new cards and a new pattern is displayed. And a new bingo game begins.
We've tried numerous online bingo halls. Once you've mastered the basics at one bingo hall you'll find it incredibly easy to play at the others.
We have selected the Top Bingo Sites
Cyber Bingo is fun and full of surprises. They always have a promotion going on
Cyber Bingo now has multiple Bingo Halls each with its own schedule, chat room and chat team – so you can choose to play in a game that best suits your mood and your budget.
Each hall has its own game schedule, chat room, dedicated chat team and its own prize and jackpot funds. And, of course, each room and chat team will have it's own followers.
Bingo Spirit can't guarantee you'll win every time at you play, but they can guarantee that you'll have the time of your life!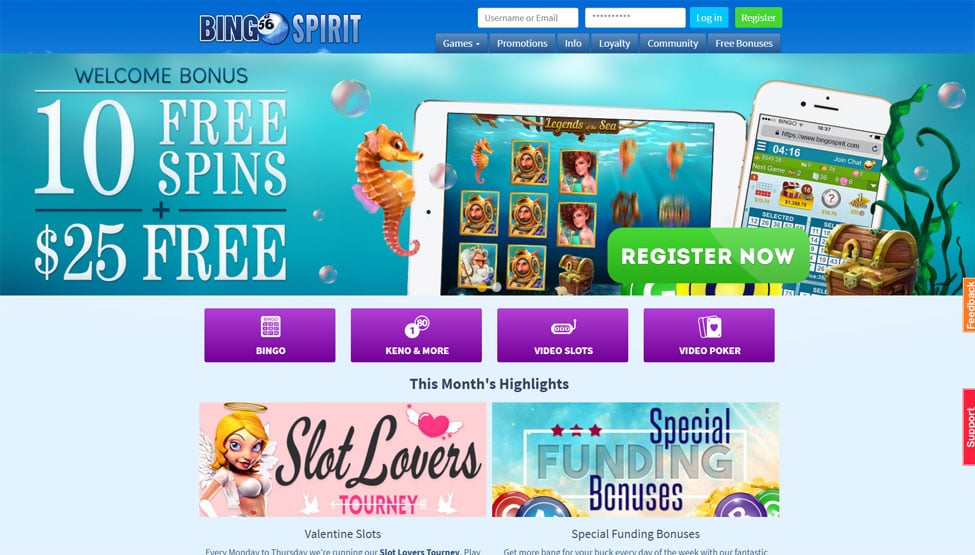 By joining Bingo Spirit and you'll also be joining their Loyalty scheme. For every dollar you spend at Bingo Spirit will earn you You Comps.
You can then cash in your Comps for real dollars. Bingo Spirit now offers you more bingo games and bingo jackpots, more choice and more chances to win!
Bingo Fest is the place you can go to play all your favorite bingo patterns, progressive slots with huge jackpots!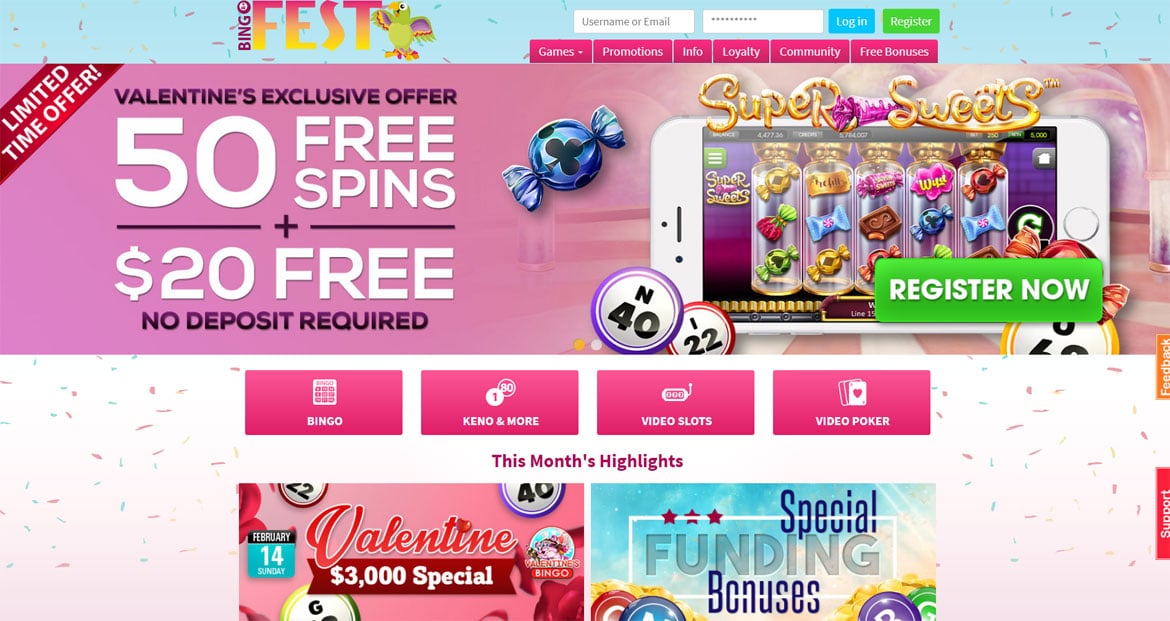 At Bingo Fest the party never stops, with games 24 hours a day, 365 days a year!
There's full 24 hour support and their ever helpful Chat Masters can't wait to meet, greet and make you feel welcome.
Using the preferred payment options you'll get a very generous 600% bonus on your first deposit and up to 400% bonus on all future deposits!
Bingo Fest has a great range of progressive slots games in the 'More Games' area. You can play these games with your cash balance to win huge progressive jackpots over $200,000!
They've given Fest a brand new makeover and although she's always had that beaming beauty about her, we've brightened up her look, feel and persona a notch! Have a look for yourself at Bingo Fest and tell us what you think.
There's something for everybody at Amigo Bingo – all your favorite  bingo games, a great selection of progressive slots!
Their doors are open all day, every day, plus Amigo Bingo has full 24 hour support and a great CM Team waiting to meet, greet and entertain you. You'll feel like you've found a new home the minute you step into chat.
Amigo Bingo has some of the most generous bonuses around. With up to 1000% bonus on your first deposit and up to 600% bonus on all future deposits!
For example – make your first deposit $20 and you'll get an EXTRA $50 bingo bonus.
You also get Amigo Comps for every dollar you spend. These can be converted back into cash any time you want.
Bonus Bingo offers the classic Bingo game experience featuring cash prizes
Membership is completely free! Players have the ability to pre-purchase Bingo games, even days in advance! Never miss out on a BIG game again!
Every game of Bonus Bingo has one or more winners. Games with multiple winners share the prize money evenly.
Jackpots are determined by the level of player participation in a game. Jackpots are directly proportional to the number of players in a game.
This means that the value of a game's cash prize will increase as the number of players joining a game increase – and the numbers are always increasing!
Bonus Bingo games have full audio capability and graphics so that you can hear the ball calls coming down the pipe and other important messages like BINGO.
Bingo Billy has won more awards for their software and games than any other online bingo site
They have their own line of unique games. The website doesn't exactly do the actual bingo interface much justice, download it for free and see for yourself.
At BingoBilly you can choose to play for money or just for fun. Bingo Billy accept Master Card and Visa, Bitcoin, WU.
In most cases, funds will be credited to your Bingo Billy account within 5 to 10 minutes.